Big things are happening at Caldera + Lab in September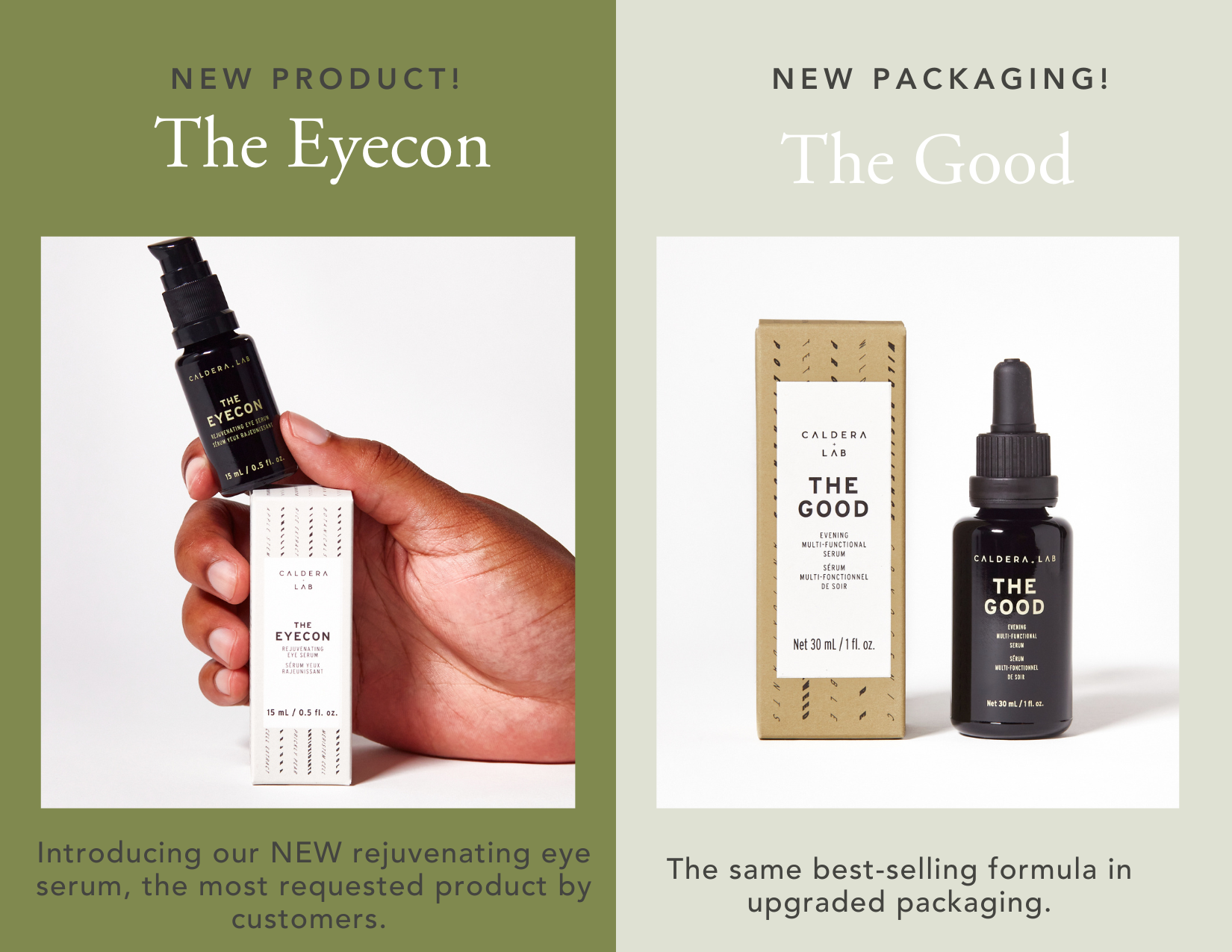 1. We are launching a new product called The Eyecon
2. The Good's packaging has been upgraded
Introducing The Eyecon
Official Launch Date: TBD
Please do not share publicly until the week of launch. We will follow up via email once the date is confirmed.
What is it? 
The Eyecon ("icon") is our one-product solution to help attack ALL three of the common problem areas around the eyes:
Crow's Feet 
Puffiness & Eye Bags
Dark Circles
It is formulated from breakthrough peptides, adaptogens, and antioxidant-packed botanicals to help smooth lines, brighten, and reduce puffiness around the eyes. 
Our Resident Esthetician, Kristin, shares more details here:
Content & Testimonials 
As one of the few men to receive early access, it would be really helpful for us to get a video, photo, and/or review of your experience! 
Please submit all content with your name here: https://www.dropbox.com/request/VoYoW0Pitgg73J05FFVE
Product Details
HOW TO APPLY: Gently massage 1-2 pumps around the full eye area including your under eye and eyelid. We recommend using your ring finger and working from the outside inward.
WHEN TO USE: Use daily AM & PM before applying other products.
WHO NEEDS IT: Guys who want to improve the look of eye bags, puffiness, crow's feet, or dark circles. 
COST:
$92 (or $73 on subscription)
2. The Good Upgraded Packaging
 The Good just got even better! We've upgraded packaging of our best-selling multifunctional serum (formula, cost, and quantity all remain the same).
Perks of the new packaging include:
More eco-friendly. Easier to recycle with less waste
High-quality glass blocks UV rays to preserve the potency and extend the shelf-life of ingredients
Easier to travel with, less likely to break
Submit video footage and 2-3 photos with The new Good here: 
https://www.dropbox.com/request/VoYoW0Pitgg73J05FFVE
Questions? Please reach out to roxie@calderalab.com. Thank you!