A Guide to Men's Face Serums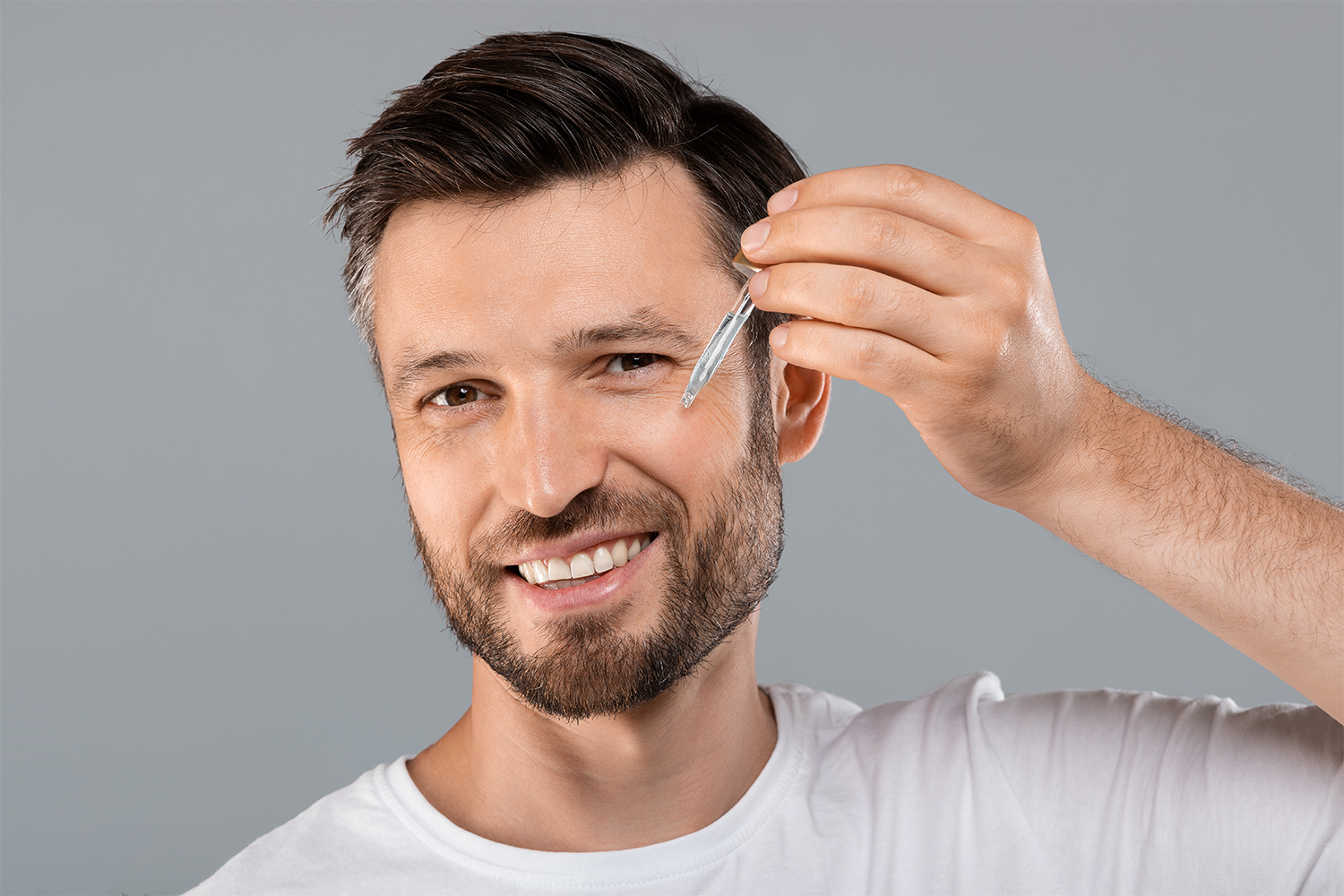 As much as most men would like to stay perfectly preserved somewhere in their 20's and 30's, there's nothing to be done about the effects of time, gravity, and the environment. 
Everyone ages. For many men, the ideal outcome is to age like a silver fox. 
You don't want to turn back time and revisit your teenage acne phase. You just want to be the best possible version of yourself over the coming decades. 
Enter face serum. A potent elixir that promises to address your skincare woes. 
These little glass bottles promise to contain nearly everything you need to manage the health and appearance of your skin as you age. 
Like with any product, some of them will work much better than others. When choosing a serum, you should establish skincare goals. 
In order to meet your goals, you need to know what it takes to achieve them and understand how the ingredients in a serum will help you do that. 
What is a Serum?
A serum is a skincare product designed to quickly and efficiently deliver beneficial ingredients to your skin. 
Skincare serums are often loaded with active botanicals or skin nourishing vitamins, although some of them may contain synthetic versions of the same compounds. 
However, synthetic serums are usually less expensive and less effective.
Serums are applied with a dropper as they are very highly concentrated. You don't need more than a few drops to treat your entire face. 
The drops are thin and sink in quickly as they're absorbed by your epidermis. They begin to deliver their benefits as soon as they've hydrated your face. 
Serums Are Different From Moisturizers
Serums may provide moisture to your skin, but they primarily provide hydration. 
Hydration is something that comes from water. Your skin drinks up a serum to quench its thirst for water and nutrients. You apply a moisturizer on top of a serum. 
Moisturizers condition your skin and provide a protective barrier between your skin and everything around you. They're a skin conditioning cushion for environmental pollution and free radicals. 
Serums and moisturizers work together as they are like primer and a base coat. 
What Does a Face Serum Do?
Serums can be used for a variety of skincare concerns. There are all-encompassing serums that address most skincare needs, and these are most likely to be beneficial. 
People often have more than one skincare concern. Rather than building a small army of different serums, choose a serum that works for everything.
Anti-Aging Ingredients
Anti-aging can mean a lot of different things to a lot of different people. It can mean firming the skin or soothing the appearance of dry, dull, and lackluster skin. 
Any skin-healthy ingredient is technically an anti-aging ingredient. The simple act of taking care of your skin will assist it in aging gracefully.
The most straightforward anti-aging ingredients are those that work to minimize the appearance of fine lines and wrinkles. 
Choose ingredients that are targeted to address signs of aging that have already appeared and prevent them from becoming more obvious. Look for ingredients, such as: 
Spilanthes plant extract

Huang Qi 

Coenzyme Q10

Echinacea 


Ingredients for an Even Skin Tone
Plenty of things can contribute to an uneven skin tone. Acne marks, sun spots, scars, melasma, and sun exposure can lead to an uneven skin tone. For severe cases, some men prefer to seek laser treatments or prescription creams. 
For mild cases, a serum usually does the job gradually and naturally. Use your serum in conjunction with SPF for the best results, as sun exposure can exacerbate uneven skin tone. 
In some cases, chemical exfoliators like alpha hydroxy acid may make results noticeable even sooner. 
Prickly pear oil

Frankincense 

Alfalfa

Yarrow


Moisturizing Ingredients
A serum's primary focus isn't to moisturize the skin, but for people with dry skin, additional skin-quenching moisture helps. 
It's important to choose ingredients that can effectively penetrate the skin and restore moisture from within. Plant and seed oils work perfectly to moisturize and replenish the skin
Thick or balmy moisturizers can only sit on the top layer and condition the skin. They undoubtedly help and serve plenty of valuable purposes, but they can't perform in the same way a serum can.
If you have very dry skin, you might have a layer of dead skin cells sitting on top that will prevent your serum from properly absorbing. 
Alpha hydroxy acid exfoliators can help to gently remove this layer and expose the surface of your skin, allowing it to draw up more moisture. 
Echinacea

Fireweed

Apricot kernel oil

Jojoba oil

Meadowfoam seed oil

Sunflower seed oil


Skin Protecting Ingredients
Firming and toning your skin will minimize the appearance of large pores or loss of volume. 
These ingredients often provide nearly immediate benefits, but they dwindle throughout the course of the day. 
Regularly incorporating them into your skincare routine will create prolonged and meaningful changes to the way your skin appears.
Antioxidant-rich ingredients help to protect your skin from damage from free radicals and environmental pollutants. 
When your skin comes into contact with pollution or harmful cells, the bad cells steal electrons from your healthy cells. When you fortify your skin with antioxidants, the antioxidants give up their cells instead. 
They work on your behalf to prevent damage to your skin when you use them topically or to your body when you ingest them.
Nettle

Prickly pear oil

Seabuckthorn

Red raspberry

Frankincense 


How To Use a Serum for Best Results
You'll notice immediately after you complete your skincare routine that your skin looks better than it did before. 
It's clean, it's hydrated, and it's moisturized. 
Your dull complexion may have a little bit of radiance to it, making you look more youthful and helping your skin to appear healthier. This isn't where the benefits end.
In order to experience the benefits of serum to its fullest potential, you'll need to use it twice a day on a clean face. Your serum provides nutrition to your skin, and it needs a steady stream of this nutrition to promote healing and remain protected from the factors contributing to the visible signs of aging. 
Over time, you'll notice a more dramatic improvement in the appearance and health of your skin. Continued use may progressively reduce the appearance of things like fine lines or perpetually dry skin. 
Caldera + Lab Has Your Face Covered
Many skin care companies fail to deliver the benefits they claim they can deliver. Some that do deliver those benefits at a cost, formulating their products with toxic or synthetic ingredients that are harmful to the planet and harmful to your body. That's now how we do things. 
Caldera + Lab's men's face serum is vegan, cruelty-free, and clinically demonstrated to provide significant benefits to the health and appearance of your skin. 
Every ingredient in the bottle is plant-based and was either harvested from the wild or organically grown for the purpose of creating our skincare. You don't need a dozen different serums with ambiguous ingredients. You only need Caldera + Lab. 
Sources:
Antioxidants and Skin Care: The Essentials | American Society of Plastic Surgeons
AAD Sunscreen | American Academy of Dermatology
An anti-aging skin care system containing alpha-hydroxy acids and vitamin | CCID