What Does Serum Do For Your Face?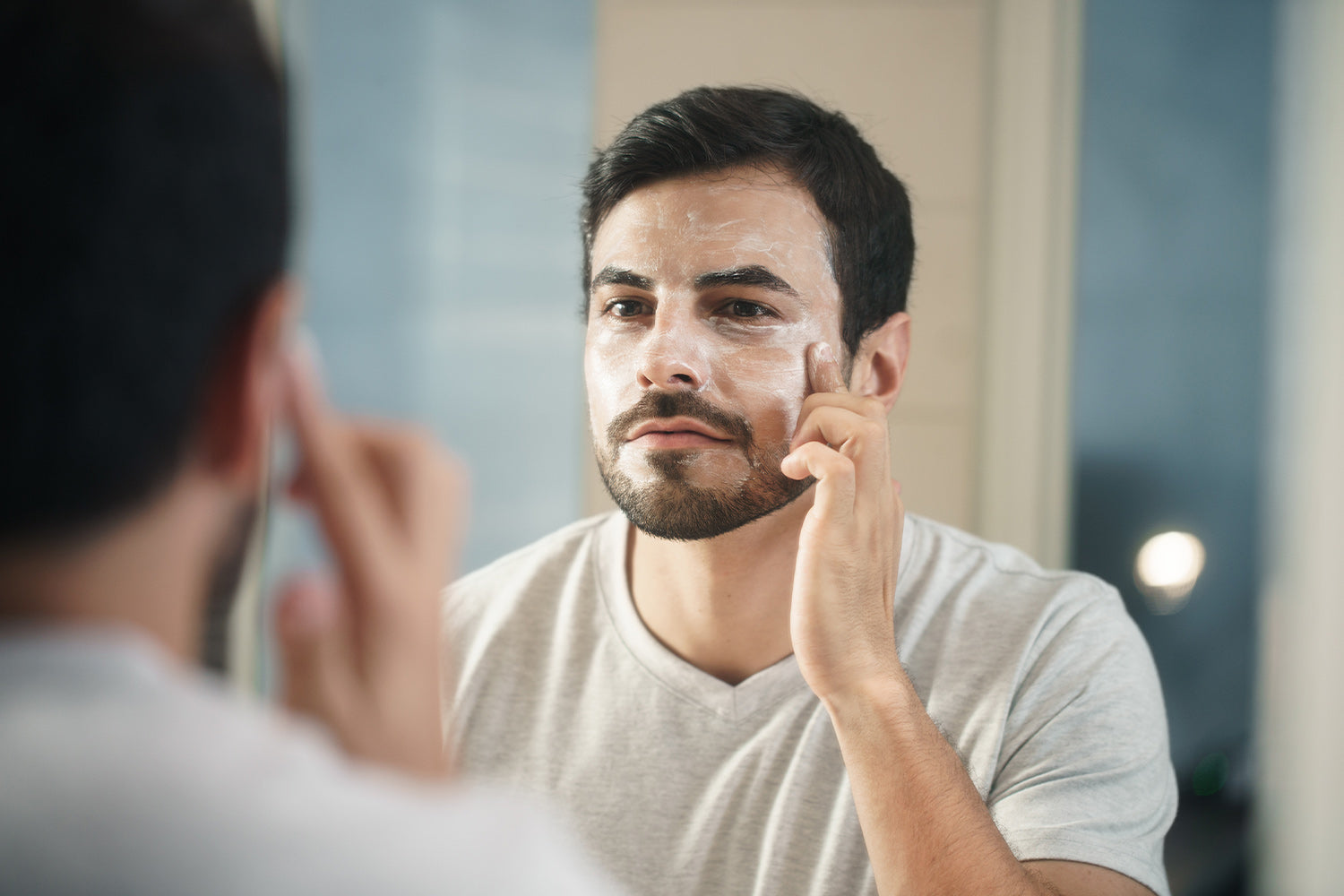 Although most people don't realize it, serums are a critical  part of a skincare routine. 
If you're currently cleansing your face (or worse yet, using bar soap), using chemical exfoliants to remove dead skin cells, applying lightweight moisturizer, and calling it a day, you still have a big gap to fill. 
You'll start to notice the real benefits of a proper skincare regimen when you're using a serum formula that addresses your skin's needs.
What Is Face Serum?
Face serums have higher concentration of active ingredients, usually of botanical origins, that work to provide benefits to your skin. 
Serums are much more potent than other skincare products. They're very thin and designed to penetrate the surface layer of your skin, delivering benefits that work from the inside out to improve the health and appearance of your skin.
What Does Face Serum Do?
Face serums hydrate the skin while they work to deliver concentrated ingredients to promote skin health. The benefits are the main reason for using a serum instead of only using a moisturizer.
Benefits can differ from serum to serum. If you take a look at most serums on the market, you'll realize that brands typically provide several serums that each promotes different effects. 
Serums treat your face in a way that moisturizers can't.
Their formulations are thinner, allowing them to be easily absorbed by the skin without leaving behind any residue or texture. Serums go deep into the pores, while moisturizers work from the surface.
Common Skincare Concerns that Serums Treat
Everyone needs a clean and moisturized face. Those needs won't change from person to person. It's the area in the middle that can differ from one face to the next. 
Some people are mostly concerned with reducing the signs of aging, while others are eager to get rid of dark spots or even out skin tone. 
Different types of serums are often labeled with one or two active ingredients or purposes that are designed to address a certain concern. 
You may have multiple skincare concerns that you'd like to address, and this is something to keep in mind when you're reading the ingredients list of a product. 
Moisturizing, Replenishing, and Balancing
People with dry skin types often gravitate towards serums that will moisturize, replenish, or balance their skin elasticity. 
Dehydrated skin often appears flaky, sunken, or dull, and may sometimes appear prematurely aged due to its low water content.
Moisturizing serums infused with ingredients like plant, seed, and mineral oils can provide much-needed moisture just below the skin's surface, reducing the potential for dry patches.
They're easily absorbed by the skin and won't cause irritation or leave a slick, thin layer on the skin's surface after they've been applied. 
Firming and Protecting the Skin
Skin naturally loses firmness as we age. Collagen begins to deplete over time, causing visible laxity. 
Environmental factors like pollutants and free radicals can expedite the loss of firmness even further. 
Ingredients rich in antioxidants like green tea extract and vitamin E, like prickly pear oil, can help to promote natural skin health.  
Seabuckthorn is high in vitamin C, which is necessary for collagen synthesis and skin health. Frankincense is a cytophylactic botanical that encourages the growth of new, healthy cells.
Reducing The Appearance of Wrinkles and Fine Lines
Most people will have concerns about wrinkles and fine lines at some point. They're an inevitable part of life, although some people will experience more significant signs of aging than others. 
Lifestyle factors, including diet and alcohol use, can play a major contributing role in the severity of these outward signs of aging. 
If you're looking for anti-aging solutions, cream and topical treatments alone will not reverse them. Making healthy changes to your habits is necessary to prevent them from worsening. Such changes and treating these signs the moment they appear can help to slow their progression.
Spilanthes enriches the skin with moisturizers, reducing the appearance of fine lines and wrinkles. Spilanthes also have natural cleansing properties that improve the appearance of pores and balance natural oils.
Ingredients like CoEnzyme Q10 work to improve skin density and the appearance of wrinkles when applied topically. 
Correcting Dark Spots and Promoting an Even Skin Tone
Dark spots, acne spots, breakouts, and other kinds of hyperpigmentation leave noticeable discolorations on the face. 
Sun exposure can contribute to dark spots and hyperpigmentation, which makes using SPF when outdoors even more important for people who are prone to developing them. 
This is another area where ingredients like prickly pear oil and frankincense stand out. Their ability to promote and support skin healing can work to naturally reduce the appearance of dark spots and hyperpigmentation. 
Botanicals like elderflower contain antioxidants that can brighten and soften the appearance of the skin.
How to Use a Serum
Serums should be applied to a cleansed and dried face. After you've washed, gently blot the excess water away with a soft, clean towel. 
The best face serums are highly concentrated, they're dispensed with a dropper. You only need a few drops to cover your entire face. 
Evenly disperse the drops and gently massage them into your skin. 
Moisturizers act as a barrier between your skin and the world, helping to protect you from free radical damage and environmental factors that can contribute to the appearance of premature skin aging.
If you're applying a serum in the morning ensure that  SPF sunscreen is the last thing applied. It doesn't matter how well you take care of your skin if you're allowing the sun's harmful UV rays to continuously damage it so don't skip this on days you'll be spending time outside.
SPF 30 is commonly accepted as a good recommendation to protect your skin from most of the sun's harmful effects. 
You can use many  serums in the morning and at night, however follow specific manufacturer's directions for that particular product. The goal should always be to care for your skin twice a day. 
Try to make a habit of caring for your skin every time you brush your teeth. This will help you establish a routine that's easy to adhere to. 
How Many Serums Do I Need?
You probably have several skincare goals you'd like to address. Settling for a single benefit is unsatisfying, but using multiple serums seems like a hassle. 
You won't be able to experience consistent results if you're constantly alternating skin care products or attempting to mix different formulations together as product design as well as ingredients can sometimes work against each other.
If you're using Caldera + Lab, our plant-based serum is designed to moisturize, replenish, firm, and protect skin while reducing dark spots, promoting an even skin tone, and minimizing the appearance of fine lines and wrinkles. 
It's everything you need without compromise.  
Sources:
Dry skin: Signs and symptoms | American Academy of Dermatology
Efficacy of Vitamin C Supplementation on Collagen Synthesis and Oxidative Stress After Musculoskeletal Injuries: A Systematic Review | National Library of Medicine
Effects of a Combination of Water-Soluble Coenzyme Q10 and Collagen on Skin Parameters and Condition: Results of a Randomised, Placebo-Controlled, Double-Blind Study | National Library of Medicine