What's In The Bottle of The Good?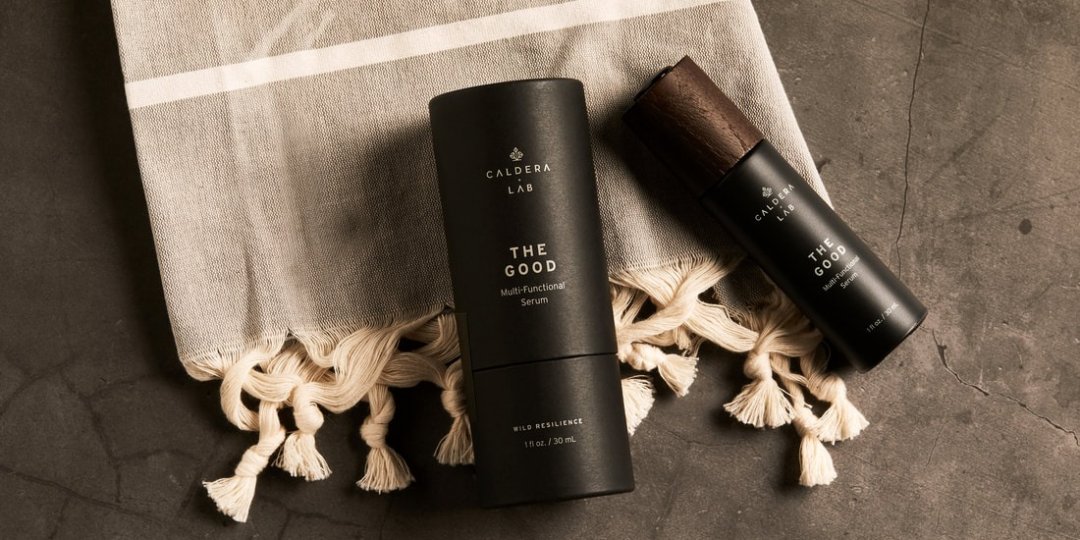 Many skincare serums make bold promises, but most people who use them find that these serums don't deliver. The Good changes that. Our serum is made of active botanicals clinically proven to support your skin's health and improve its appearance. 
Your serum should do most of the heavy lifting in your skincare. Serums are the most concentrated skincare product, meaning they're capable of providing more benefits than anything else you'll put on your face. How noticeable those benefits will largely depend on the ingredients of the serum.
We take our ingredients very seriously. Each botanical was selected based on the benefits it imparts and concentrated at high potency in The Good. Your skin will rapidly drink up the benefits and begin to improve over time. 
Moisturizing Ingredients
Serums are designed to be deeply hydrating products. Your skin absorbs the hydrating ingredients from your serum better than it absorbs hydrating ingredients from a moisturizer. 
The thin consistency and smooth texture of serums, combined with the small particles of concentrated ingredients, work to penetrate the top layer of your skin. 
This provides moisture all the way down to the layers where your skin needs it most. 
Sunflower Seed Oil

Meadowfoam Seed Oil

Apricot Kernel Oil

Jojoba Oil

Fireweed

Echinacea
Sunflower seed oil, meadowfoam seed oil, apricot kernel oil, and jojoba oil are skin-healthy oils that deliver moisture, vitamins, and antioxidants to your skin. They work to support your skin's natural barrier and may help to regulate the production of sebum, helping to keep your skin balanced.
Fireweed has been used by indigenous cultures to improve the health of the skin. Fireweed is packed with flavonoids and antioxidants that help to protect the skin as the extracts of the plate hydrate and nourish. 
Echinacea penetrates your skin and supports its natural lipid and ceramide production. Your skin's natural moisture barrier is composed of these lipids and ceramides. In a way, echinacea can help encourage your skin to take better care of itself. 
Ingredients That Make Skin Appear Firmer and Smoother
The appearance of firmness and smoothness of your skin are issues relating to texture. There is no skincare ingredient that can pull your skin tighter or shrink it in the long term.
The right skincare ingredients will deeply nourish your skin, soothe blemishes, and improve circulation to promote a healthy youthful "plumpness" and restore your skin's health.
Red Raspberry

Seabuckthorn

Nettle

Frankincense

Prickly Pear Oil
Nettle and frankincense both work to help clear blemishes on the skin, ultimately smoothing the texture of skin that may be afflicted with breakouts. Prickly pear oil is rich with skin healthy vitamins that support your skin's ability to naturally manufacture collagen.
Seabuckthorn is one of the very few oils that contain all four types of omega fatty acids. 
Omega fatty acids can work to restore and fortify your skin's natural barrier, improving its ability to repair itself. Seabuckthorn is also very high in vitamin C and vitamin E, both of which are crucial to your skin's ability to create new collagen. 
Prickly pear oil brings an extra boost of vitamin C and vitamin E to the table. 
Ingredients That Improve the Appearance of Dark Spots and Even Skin Tone
Many things can cause dark spots or an uneven skin tone. Sometimes, uneven skin tone is a result of uneven sun exposure. 
Some areas of your face will tan slightly more than others. Sun damage can cause dark spots to appear on random areas of the body, usually on the face, chest, and arms. 
Some dark spots may be the result of healed acne. 
Alfalfa

Yarrow

Prickly Pear Oil

Frankincense
Frankincense has been used as a blemish treatment and a skin-healing ingredient throughout history. Frankincense may help to promote cellular health, encouraging your skin to minimize dark spots or uneven skin tone through cellular regeneration. 
Prickly pear oil's high vitamin C content works to improve the appearance of dark spots and uneven skin tone by encouraging your skin to produce new cells and stimulating collagen production. Dark spots and uneven skin tone will fade over time. 
Alfalfa and yarrow provide the skin with valuable antioxidants that can protect your skin from future damage. In addition to their protective benefits, they also work to promote a clear and even complexion.
Ingredients to Reduce the Visibility of Fine Lines and Wrinkles
Fine lines and wrinkles occur with age. They're a natural part of life. Factors like hydration, nutrition, exposure to free radicals and environmental pollutants, sun exposure, and poor skincare habits can cause them to appear quickly and become prematurely noticeable. In other words, aging will always occur, but there are many factors that expedite the process.
Some skincare ingredients can promote your skin's ability to heal itself while protecting your skin from further damage. 
Prevention is always better than attempting to resolve all signs of aging, but some ingredients can help to minimize their impact on your appearance and the health of your skin.
Echinacea

Spilanthes Whole Plant Extract

CoEnzyme Q10

Huang Qi
Spilanthes is an antioxidant-rich plant that helps to relax collagen fibers in your face. 
CoEnzyme Q10 is a restorative, reparative enzyme that your body naturally produces. It helps to protect against environmental stressors while improving cellular activity in your skin.
Huang Qi, an herb with ancient medicinal value, helps to promote the healing of damaged skin. Similarly, echinacea helps to heal damage to the skin in addition to helping the skin maintain its clarity. 
What Isn't in The Bottle of The Good
What we don't use is just as important as what we do use. Serums are designed to be absorbed by your skin. 
Toxic and synthetic ingredients in skincare serums will ultimately be introduced to your body by way of your skin. Improving the health of your skin should never involve harming the health of your body. 
That's why there's a laundry list of things we would never incorporate into our skincare products.
Gluten

Parabens

Aluminum

Animal Derived Ingredients

Toxic Chemicals

Synthetic Preservatives

Silicones

Formaldehyde

Phthalate
Your body is natural. It only needs natural things to heal and protect itself. Your skin doesn't use aluminum or formaldehyde for anything. Why encourage it to absorb toxic chemicals?
Caldera + Lab committed to transparency, sustainability, and ethics. We know where every ingredient in The Good came from, and we want you to know as well. 
The ingredients that weren't organically grown for our serum were sustainably harvested from the wild. Every single thing on our ingredients list is safe and natural, with no exceptions.
Using The Good
The Good will provide a wealth of benefits for your skin, but these benefits will be more pronounced when you use The Good in conjunction with a proper skincare routine. 
It doesn't need to be complicated and time-consuming, and you can easily commit to it twice a day. Take care of your skin after you've brushed your teeth. It only takes a few minutes.
Start by cleansing your face with The Clean Slate, our microbiome-friendly cleanser designed to promote the health of your skin without stripping its natural defenses. Blot your face dry, and apply a few drops of The Good. 
Gently rub it in until it's been absorbed. Top it off with The Base Layer moisturizer to seal in the hydration from The Good and provide your skin with a barrier against environmental pollutants. It's that simple. 
Sources:
Antioxidants and Skin Care: The Essentials | Journal of American Society of Plastic Surgeons
Land of Frankincense | UNESCO World Heritage
The abundance of active ingredients in sea-buckthorn oil | Biomed Central