Benefits of Men's Facial Products: Moisturize, Firm, Protect, Tone, and Smooth Wrinkles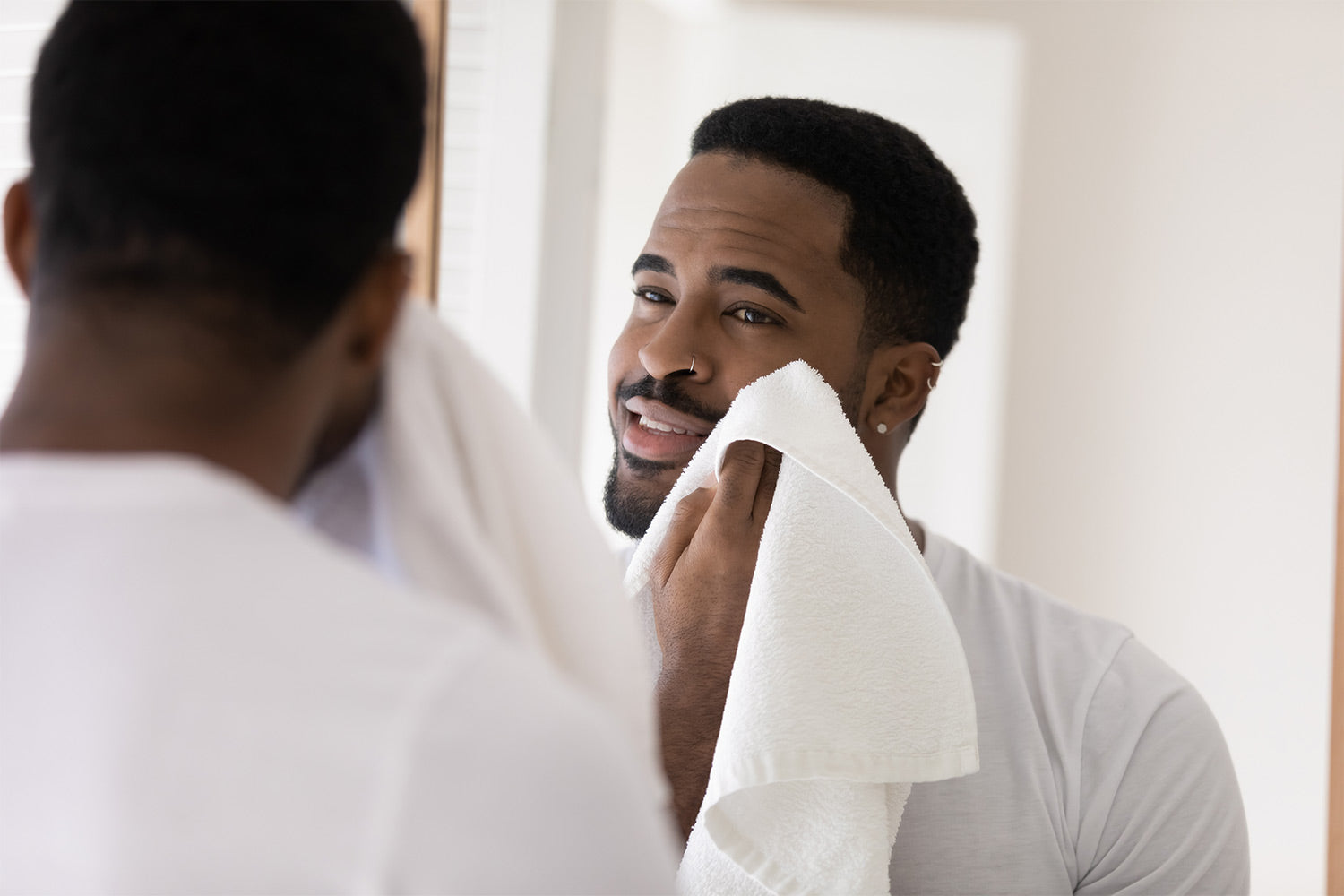 Men want to look and feel their best. They want to properly care for their skin to assure its health and maintain its youthful appearance. 
For some reason, most skincare products are targeted towards women. However, plenty of men who enjoy the opportunity to take better care of themselves end up feeling pushed out of this wellness space. This leaves men with a lot of questions about what products they should use and where they should start. 
Understanding what products do, how to use them, and what the description of their functions and benefits means. You know what your skincare goals are. Now it's time to find products that will help you meet those goals. 
Moisturizing Your Skin
Your moisturizer sits on top of your skin. It's the finishing touch of your skincare routine. 
Moisturizer creates a protective barrier between your skin and environmental pollutants. 
Contrary to what the name suggests, moisturizers don't necessarily moisturize your skin. They hydrate your skin and then create a layer of moisture outside that locks the hydration into your skin.
Some moisturizers are formulated with sunscreen to provide skin protection during the day. Some moisturizers can be used anytime, whether it's day or night. Just don't forget to back them up with sunscreen during the morning hours. 
Firming Your Skin
Firming can refer to a lot of things. Some people view firming and improving the appearance of fine lines and wrinkles as the same thing. They're typically different.
Deep hydration, the promotion of skin elasticity, and the promotion of circulation will ultimately contribute to the appearance of firmer skin. Hydration naturally plumps up the skin, and circulation improves blood flow to the skin. 
Ingredients that promote skin elasticity typically show results gradually, but skin with strong elastin may appear more firm when they offer those results. 
Protecting Your Skin
Protecting your skin means shielding it from free radicals, environmental toxins, air pollution, and sun damage. Protection is one of the most important aspects of a comprehensive anti-aging skincare routine. It's hard to improve the way your skin looks and feels if damaging factors are constantly bombarding it. 
Protecting your skin can slow the development of many signs of aging by keeping your skin as healthy as possible. Ingredients that encourage cell turnover, SPF skincare, and antioxidants work in unison to keep your skin safe. 
Toning Your Skin
Toning your skin doesn't have anything to do with your skin tone, meaning your skin color. Toning is like firming, but the benefits are temporary. 
Most toning products contain some kind of astringent ingredient that works to reduce bacteria on the surface of the skin. The blood vessels contract in response to an astringent, which leads to the appearance of firmer skin while reducing the appearance of pores. 
Some toners don't contain astringent ingredients. They can contain botanicals, antioxidants, and hydrating ingredients. There are also toners like glycolic acid that are gentle chemical exfoliators. These toners work to help your skin shed dead cells sitting on the surface.
There's a whole wide world of toners, and they all promise different benefits. You may not need to use a toner in your skincare routine unless you're looking to address a skincare concern that a well-formulated toner can assist with. 
Smoothing Your Skin
Smoothing wrinkles isn't technically how anti-aging skincare products work, although they may oversimplify their properties by explaining the process that way. Smoothing ingredients hydrate your skin while providing necessary enzymes and plant extracts that help your skin to heal. 
It takes several weeks of regular use for smoothing products to produce noticeable results. They won't turn back the clock or eliminate wrinkles and fine lines. They'll deeply care for the affected skin and improve its health, minimizing the appearance of the lines and wrinkles on your skin. 
To continuously experience the benefits of these products, you'll need to use them every day as a part of a comprehensive skincare routine. This routine should include protecting your skin from further damage. After all, there's no sense in going one step forward and two steps back. 
Using Your Products in the Right Order
In order for your products to work properly, you need to use them in the correct order. This is a routine you should follow morning and night. Use your skincare products every time you brush your teeth. Tying the two activities together will help you to remember and establish a skincare schedule.
1. Cleanser
Your skin needs to be washed to remove dirt and debris sitting on the surface. Otherwise, you're merely supplying dead skin cells and pollutants on the surface of your skin with a lifetime supply of antioxidants. Use a cleanser without harsh surfactants. Soapy cleansers strip your skin of its natural protection, depleting its healthy microbiome. The Clean Slate is designed to cleanse your skin and eliminate harmful bacteria without destroying its healthy balance. 
2. Toner
You don't necessarily need to use a toner, but they help in some circumstances. Astringent toners dry out your skin and remove the natural oils your skin needs for protection. 
Glycolic acid or alpha hydroxy acid toners are somewhat drying, but they serve an essential purpose. These toners will help to eliminate dead cells on the surface of the skin. When the dead cells are removed, the ingredients from your other skincare products can penetrate the top layer of your skin effectively.
3. Serum
Your serum provides most of the skincare benefits in your routine. Serums are deeply hydrating products that deliver moisture and active ingredients to the skin. Your skin absorbs them and begins to utilize them as nourishment and to support the repair process.
The active botanicals in The Good address most skincare concerns simultaneously. Think of our serum as a complete plant-based diet for your skin. 
4. Moisturizer
Moisturizer provides some hydration to your skin, but its most important function is to protect your skin. Moisturizers seal in hydrating products, like serums, and act as a barrier between your face and free radicals found in the environment. 
Antioxidant-rich moisturizers serve as the first line of defense between your face and environmental pollution that can negatively impact your skin health. 
The Base Layer is loaded with antioxidants and adaptogens that work to protect your skin from the damaging effects of pollution. 
Sun Protection (if Necessary)
Sun protection is necessary every time you leave the house. It doesn't matter if you'll be spending a lot of time outdoors or simply running errands. Your skin is exposed to the sun's harsh UV rays, even when you're in the car. 
While you can't get sunburned through your windshield, you can still incur damage from the sun's rays. Use SPF 30 if you'll be stepping outside before the evening hours. 
Skin Care Should be Simple
Skincare should be simple in its routine and its ingredients. Caldera + Lab's skincare for men is formulated with active botanicals. That's it. There are no synthetic ingredients, parabens, toxic chemicals, formaldehyde, GMOs, or animal ingredients. Every drop of The Good is truly good. 
Our skincare has been clinically demonstrated to improve skin health and the appearance of aging signs. Keep your routine simple and effective with Caldera + Lab. 
Sources:
Impact of airborne particulate matter on skin: a systematic review from epidemiology to in vitro studies | Biomed Central
How to safely exfoliate at home | American Academy of Dermatology